Definitely a ranger. They're also extremely easy to level, and you can respec at level 60 into a helluva ganker.

Why is this the case?

Well, Rangers get free 7p bows all the way up until level 22 (they get a 7p Arcane Bow from Adept Quest in Iterum). Also, Rangers still have it easy in HKs, because they can effectively kite them. In-case you don't know, kiting in MMO's is when you gather a group of mobs while being able to walk faster than them, and casting AOE's on them from ahead (essentially).

Another plus for them? Bows are cheap as shit. It's a joke. And leather armors (which is all they can wear in end-game) are far cheaper than high end plate armors. You can't even really compare the two (imo).

Also, Ranger's are great at ganking people. You'll be a glass cannon, but if you get good at it, Rangers are just crazy with the DPS (damage per second). If you stack agil and daggers, and put some good wolfies on? Oh man, you'll hurt and be quick. And your high agility means you have an extremely high chance of landing those blows.

That's why I would make an argument for Rangers. Also, they're lots of fun. They're unique! However, with all that being said, if you prefer mages, Warlocks are definitely the cheapest/easiest to play. They level like mofos!
_________________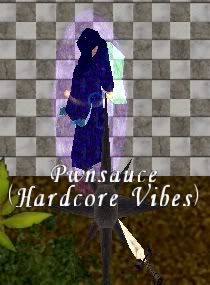 Pwnsauce's Market!!!11one